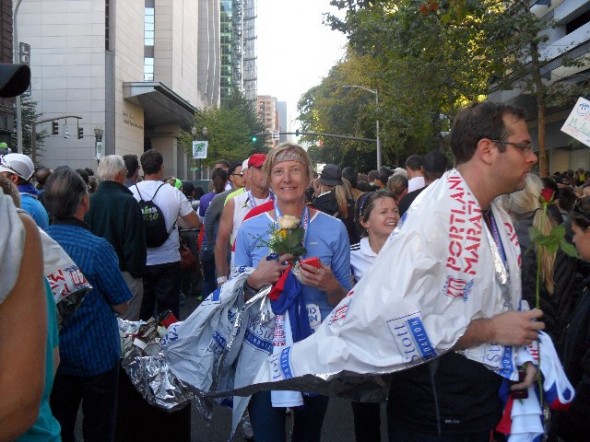 I remember the afternoon when a client mentioned that if you were already running a few times a week, it was a minor transition to train for the half.   I had never really thought to run long distances before but it seemed worth a try.  Could I do it? Maybe I could.
After months of training and a fitful night without sleep, the dark morning arrived.  My running buddy and I crept out of the house and caught the subway to Union Square where I become one of a sea of pony tails, waiting at the start line of this all women race, Run Like a Girl.  The crowd started to move as somewhere up front far away, the gun went off and the race began.  The morning was cool, and the air moist as I skirted through the crowds making my way ahead.   I knew nothing about pacing, I just ran, ran and ran, weaving my way through the congested start.  Fast at first, I felt good!  Miles 4-5-6.  But by the time,  I hit the hill at Fort Mason, I started to struggle and walked.  Miles 7-8.  I saw others taking pictures with their phones, but I had no time.  Miles 9-10.  I was determined to make it.  Miles 11-12-and happy 13.
I was overwhelmed when I ran through that last push of the chute, heart pounding, adrenaline pumping, testosterone building, legs buzzing, every muscle engaged to cross the finish line.  AAARGH!!!  I could have collapsed on the side but I finished instead.  I celebrated with pancakes and syrup, mimosa's and friends.  My feet were a tangle of blisters.
Days later, the question crept in.  Now what?  Do I keep running?  Weren't drizzly mornings best left in bed?  My couch so cozy beckoned.
But wait!   A sideways glance at my running shoes brought an unintentional smile to my lips.  What is this?   Was it the endorphins, the view from Chrissy Field, the ritualized catching up with running buddies that I missed?  Or was it the way that life never feels quite as unjust after a good run?  My breath became deeper.  My energy increased.   My primary care physician commented on my runner's heart. There was a reserve of strength in my knees and back and legs that had built up to it's own sort of intoxication.
But how was I to make the transition from running a race to becoming a runner?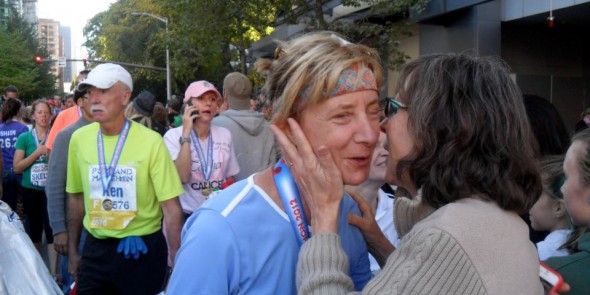 FIVE C's
Hully Fetico of Fluid Movement, training coach and injury specialist taught me that there are five basic steps to make this transition.
Step 1. CLARITY
Find the clarity in yourself to know your basic goal.  What do you want to achieve with running?  What is your primary purpose?  Be it health management, or mood stabilization or to be competitive, you need to establish a clear purpose. Clarity is the decision to embark on the path to become that runner you want to be.  It is believing and knowing that possibility is real.
Step 2. COMMITMENT
Once that clarity has been established, find the steps to take you to your goal. Make a commitment to yourself.  Yes, a running routine takes time, time that you could be using for something else.  Make a promise to yourself that you will keep.
Learn how to run so that it is not stressful on your body.  Working with a trainer, or physical therapist, learn how to accomplish the gait, arms strength, and foot placement to minimize stress and potential injury.
Maintain flexibility.  This should be a part of your running routine that is important as the miles logged.
Take care of the temple:  Follow a diet of balanced nutrition that is good for your specific body.  You can work with a nutritionist or experiment on your own but take the attention to learn what your own body needs.  Maintain proper hydration.  Drink half your weight in ounces every day.  Get the right amount of sleep for you. Rest from running once a week.  Get a regular massage to heal and clean faster.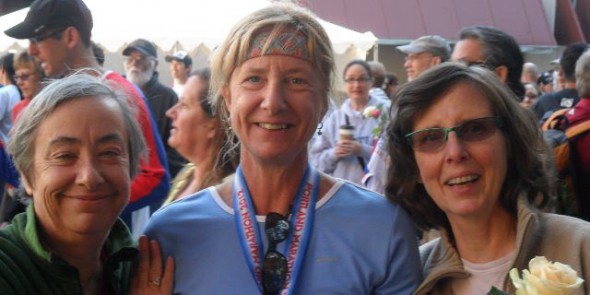 Step 3. CONSISTENCY
Consistency is the willingness and the discipline to do what needs to be done every day.  This is where your life will change to honor the commitments you have made to yourself.  With a clear goal, the follow through will come naturally.
Consistency is keeping the promises you made to even when they are hard.   It means sticking to the schedule even when there are obstacles in your path.  It means doing the job when it needs to get done, running long in the pouring rain or saying no to the big fluffy donut.
Consistency is being compassionate with yourself when you are disappointed and mustering the courage to try again.  It is being open to change because moving forward is more important than adhering to a rigid schedule created before you knew what you know now.
Step 4. COMMUNICATION
So now that you know, share your path and encourage others to find theirs.
Join a running group, find running buddies, join the board of your local running club!  Volunteer for events, man waterstops, do what you can to spread the word about what you have discovered.
Be an active part of your running community.
Step 5. COLLABORATION
Think about how your running has helped more than your running.  What has running taught you about goals, about clarity and commitment?  A friend told me that after she ran two marathons with her husband, he kept running and she decided to go back to college.  Has it boasted your confidence?  Has it taught you that if you break down a seemingly impossible goal into baby steps, and follow through on those steps day by day, eventually you will find yourself at the top of the mountain or crossing the finish line?  Integrate these lessons into the whole of your life.
PUTTING IT TOGETHER.
So the next time you cross the finish line, perhaps a bit woozy and dazed as the new shiny medal is laced over your head, stumbling like a drone after rushing to her queen bee, you will know what happens next.   After moving through the crowd to find friends, family, a coffee, water, nibbling a banana in slow motion, your space blanket wrapped around your shoulders as you shiver from the now cold sweat, your face will bean without thinking because come tomorrow you know that you will easily lace up your shoes and get going, ready for the next run and the next and the next…